Fresh from Guild's vintage-inspired Newark St. Collection, could this retro hot-rod be the leader of the pack?
Despite space-age model names such as Starfire and Jetstar, Guild's Newark St. Collection has long been a destination for those with vintage inclinations and a down-to-earth budget. From hard-rockin' solidbodies to hollowbody archtops, all the main food groups are accounted for within the range. Our review model combines the classic singlecut Starfire outline with a centre-block, a trio of Guild's Franz P-90s and a Bigsby-style vibrato tailpiece.
---
Seen here in Satin White polyurethane, the Jet90 is certainly a looker, and the Satin Black and dark-backed Satin Gold incarnations are no less attractive. With a 16.5-inch lower bout and an elongated Firebird-style six-in-line headstock outline first used by Guild back in the 1960s, it's an imposing instrument that makes a lot more sense on our 6'2" frame than it might on that of a shorter player.
Big-boned it may be, but this Starfire's mahogany centre-block is chambered and its tailpiece lightweight aluminium, so it's unlikely you'll find the guitar's weight to be a drag factor. It balances superbly on a strap, too, and hangs in a very natural playing position. With its arched laminated-maple top and back with ivory ABS binding and two-ply purfling, the construction is broadly 335-like and therefore there's no reason to expect a shortage of sustain. In fact, the centre-block-anchored bridge, screwed down tension-bar-equipped tailpiece and unimpeded string-path behind the nut combine to offer sustain and stability in abundance. But more on that shortly.
"THE JET90 OOZES ROCK 'N' ROLL AND, FOR JUST £599 AND WITH THE GRAND OLD GUILD NAME ON ITS ELEGANT HEADSTOCK, IT'S ALMOST IMPOSSIBLE TO ARGUE WITH"
The Indian rosewood fingerboard is also bound in ivory ABS (that's acrylonitrile butadiene styrene, to its friends; a thermoplastic polymer which, in addition to beautifying guitars, is currently finding favour in the 3D printing world) with 5mm pearloid dots providing a understated counterpoint to the visual flourishes elsewhere. These include the stepped Art Deco pickguard with its retro logo, G-logo mirror knobs and the old-school indicator pins around the six-position rotary pickup selector switch.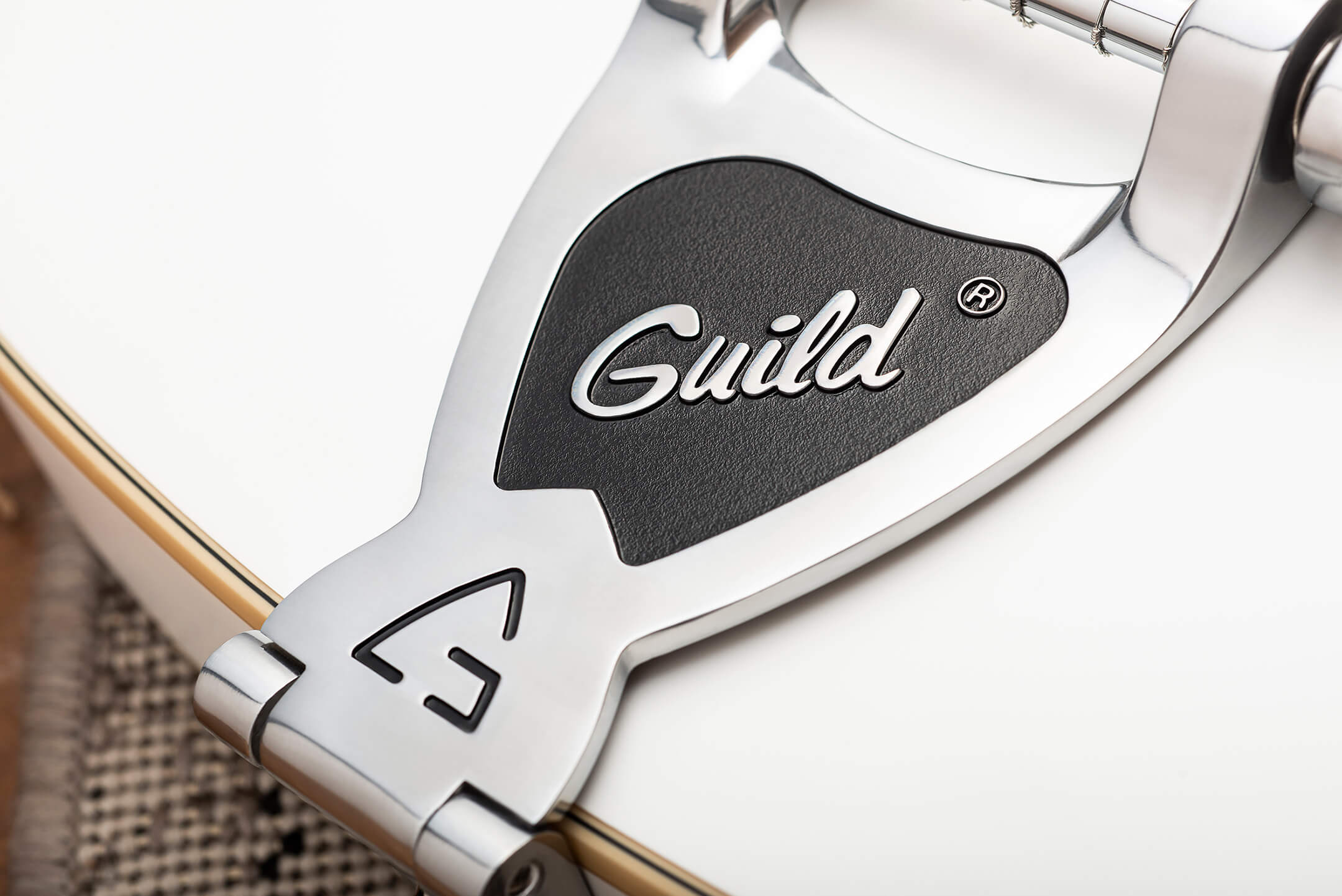 Though Newark St. instruments are made in South Korea, Indonesia and China at the behest of Guild's California-based owners Córdoba Music Group, the collection itself is named after the location of Guild's former Hoboken, New Jersey factory at which many of its vintage models were manufactured before the company was sold to the Avnet Corporation in 1965. In 1966, Guild operations were relocated to Rhode Island, where they remained until the facility was shut down by then-owners Fender in 2001.
"EVEN BEFORE YOU PLUG IN, THE LOUD ACOUSTIC VOICE AND SHIFTING HARMONICS PROMISE PLENTY OF FIREWORKS"
The aforementioned Franz P-90s offer another link to the first boom era of electric guitar production. Original Franz pickups were manufactured in Astoria, Queens and featured on many of Guild's 1950s models. Under the hood, the modern repros on our review guitar certainly aren't off-the-peg units and, though they are similar, they sport some notable anatomical differences to Gibson-style P-90s.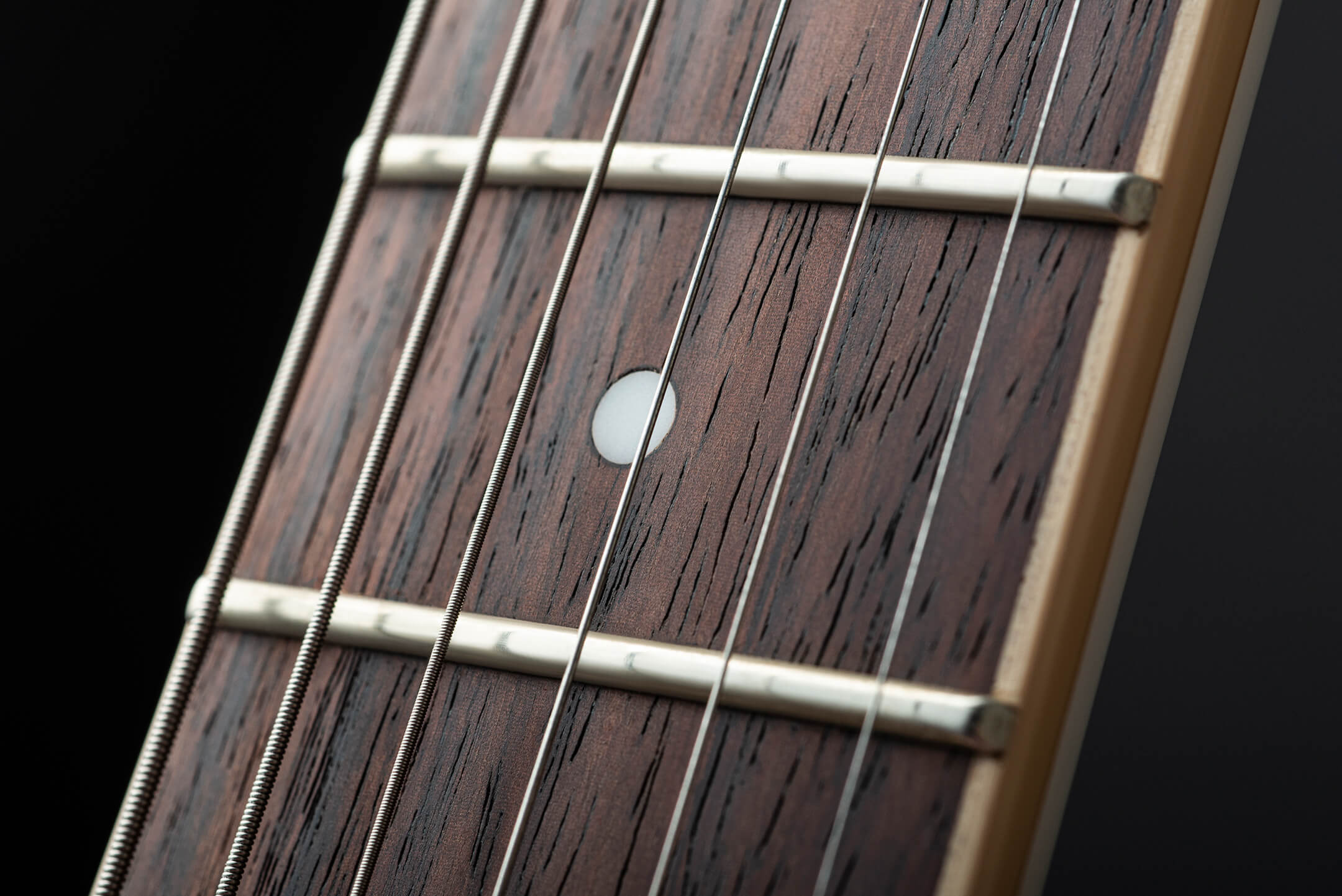 Undo the single centre-screw to remove one of the pickup covers and you'll see that the corners of the top and bottom of the bobbins have been removed. This was originally done to avoid snagging when winding. The pickups are anchored to the body via a screw in each corner of the base plate, and the plate itself is folded, with a lip on each long side helping to hold a pair of bar magnets in place. Scope for pickup-height adjustment is limited but thanks to the foam pad beneath each unit, there is some room for manoeuvre, at least. Happily, plugging in reveals that the balance between all three pickups was set optimally before this guitar left the factory.
The 'modern thin U' neck shape is slim, but not off puttingly so, and though its slightly flat-backed carve is a little generic, it's unlikely to scare anyone away and there's plenty to grapple with at the body end. Importantly, the fingerboard binding and fret ends feel nicely rounded and there are no sharp edges. The nut slots have been cut a little on the high side but, if it bothers you, be mindful that it's certainly easier to rectify than if they were too deep.
"IT'S IN THAT THIRD POSITION WHERE WE LOSE THE MOST TIME TO ATMOSPHERIC NOODLING EMBROIDERED BY SMOKY REVERB, THROBBING TREMOLO AND JUDICIOUS DIPS OF THE WHAMMY BAR"
Though we've read reports of slightly flimsy tuners and soft vibrato springs in reviews of this model elsewhere, we can only comment on the guitar in front of us and neither issue has reared its head here. Indeed, the firm-but-not-stiff spring tension, optimal bar angle and expressive overall feel of the vibrato resides firmly in the Goldilocks zone and is as good as we've experienced from many modern USA-made Bigsby units. As we mentioned previously, sustain is long and well-balanced and, even before you plug in, the loud acoustic voice and shifting harmonics promise plenty of fireworks, with no danger of running out of gas when amplified.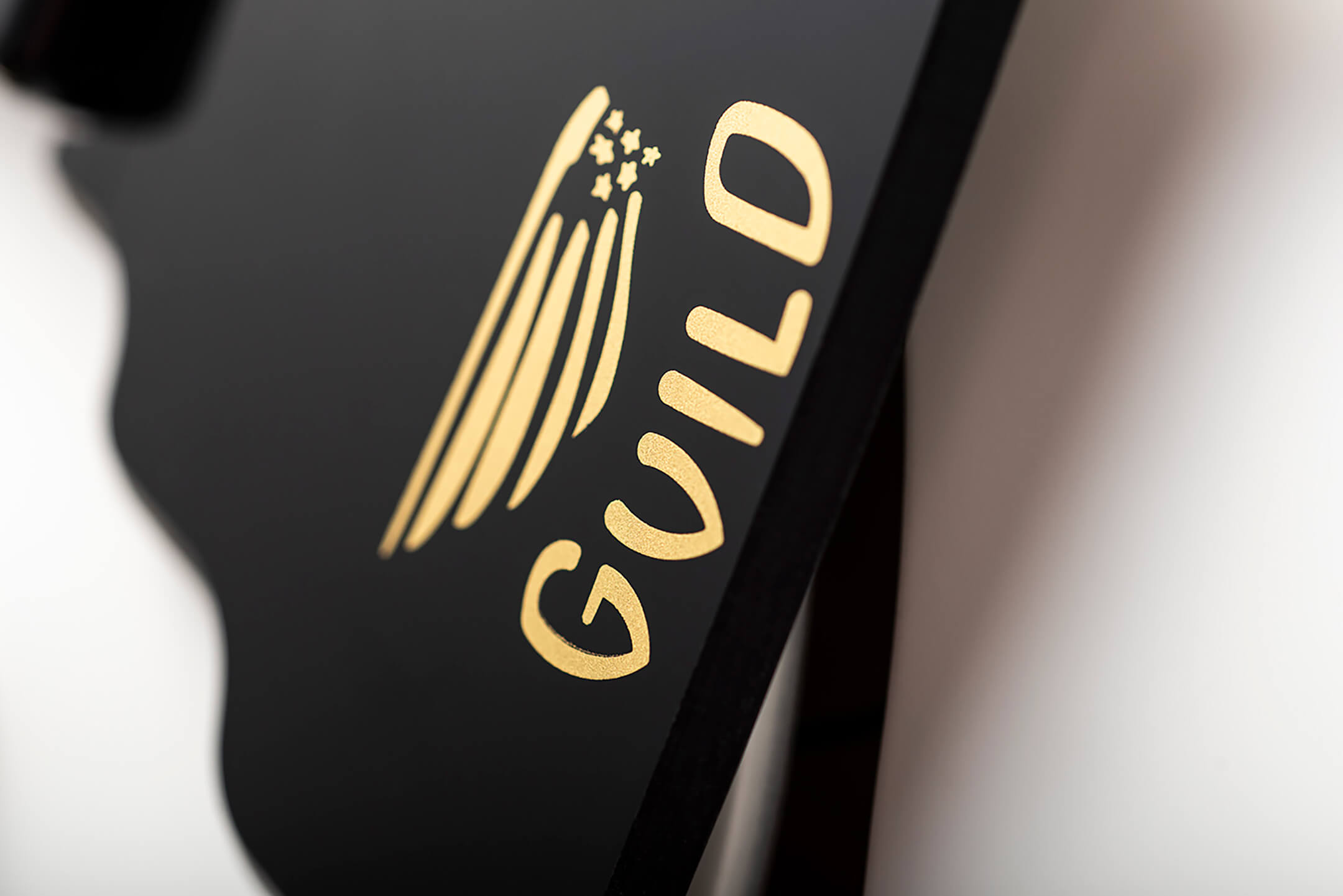 Through our tweed combo, the bridge pickup is spiteful and nasal just like a great bridge P-90 should be and, digging in hard, there's plenty to love for fans of early Kinks and prime-era Neil Young and Jack White. Compared to our late 1960s Gibson ES-330, the Guild has more output and more heft and it's altogether more solidbody-like in tone – no surprise given that the Guild's Franz pickups are screwed into a section of mahogany and our Gibson is fully hollow.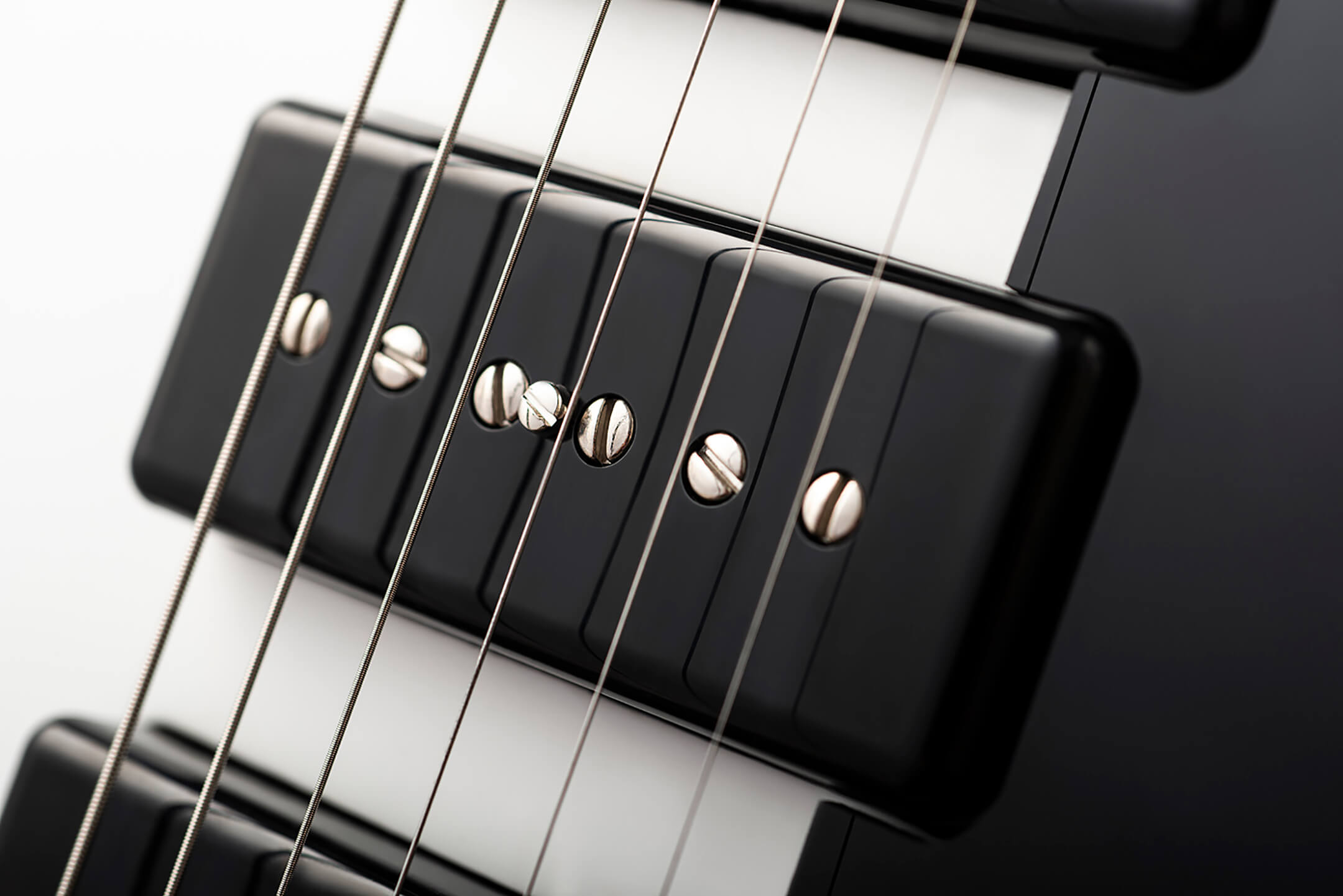 Position two's hum-cancelling combo of the bridge and middle pickups introduces more single-coil sparkle and twang and the tone is rather more Gretsch-like, perfect for those early Beatles or Last Train To Clarksville-style jangle-pop moments. Position three (middle pickup only) firms things up again and is a great lead and rhythm tone in its own right that offers a muscular contrast to the springier hum-cancelling neck-and-bridge setting in position six.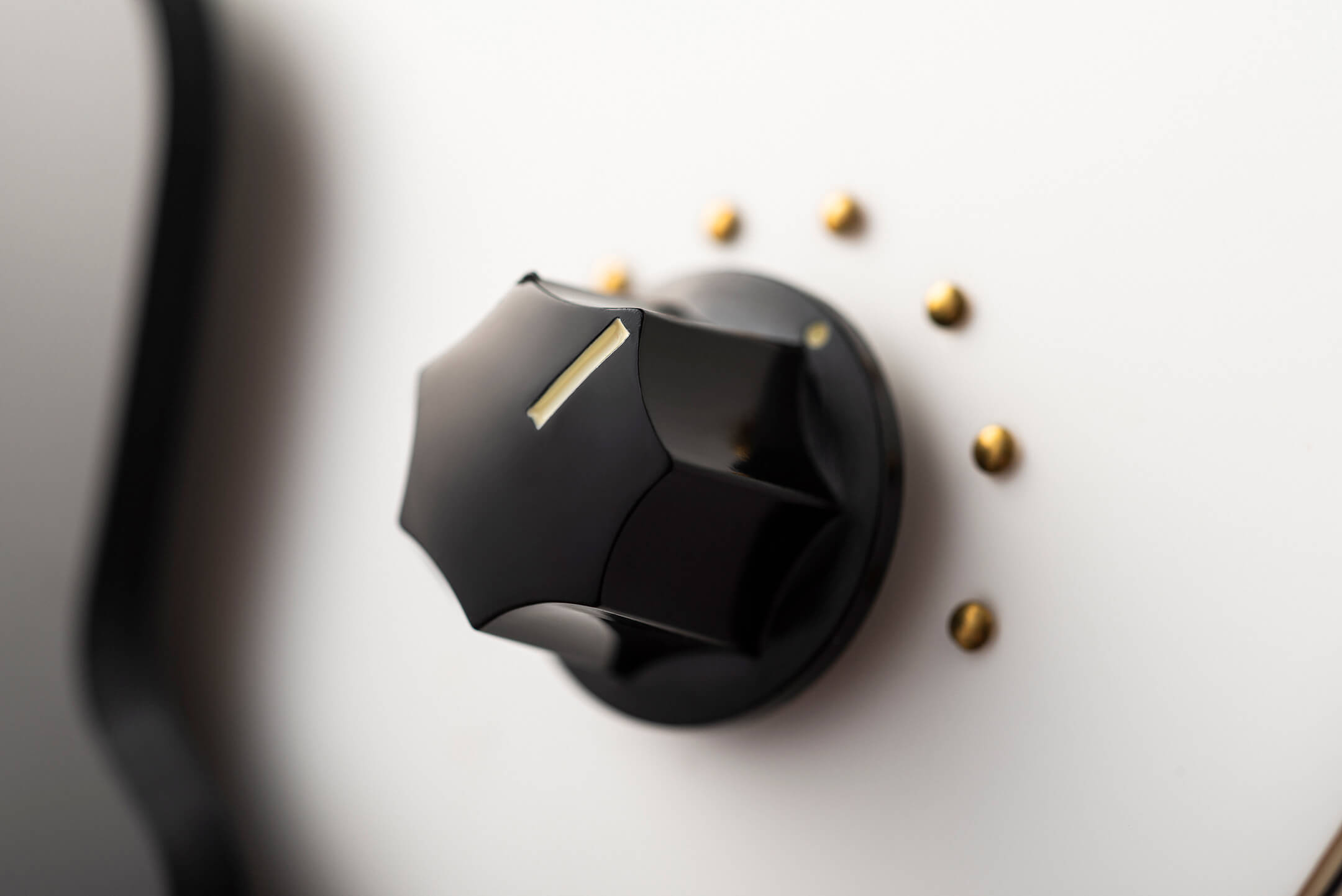 Indeed, it's in that third position where we lose the most time to atmospheric noodling embroidered by smoky reverb, throbbing tremolo and judicious dips of the whammy bar. This quickly swerves into spy-movie soundtrack and rockabilly territory in position four, where the Gretsch-like flavour returns. Position five is another noodler's haven, with the neck pickup in standalone mode delivering a blend of smoothness and bite that begs you to throw that pick down and explore its dynamic range with your fingers.
"THE BRIDGE PICKUP IS SPITEFUL AND NASAL JUST LIKE A GREAT BRIDGE P-90 SHOULD BE"
When transitioning from one sound to another it doesn't create too much of an audible thunk, but there's no doubt that the pickup selector switch doesn't have the ease of use and simple visual recognition of a blade or toggle design. Initially, at least, you might find you lose your bearings in the heat of battle; from a player's perspective, it can be hard to tell at a glance whether you are in position one or two as the knob itself masks those marker pins from view.
Middle-position pickups with tall covers can be kryptonite for some players, but this is not something we've ever had to adjust our playing technique to accommodate. Over the years we've tended to file this concern in the 'parallel universe problems' folder alongside such strange worries as disliking Telecasters and having tuning issues with Bigsbys. However, people who struggle with three-pickup guitars do walk among us, even if they are unlikely to have made it as far into this review as the penultimate paragraph.
These ergonomic concerns aside, there are very few negatives here. The Starfire I Jet90 oozes rock 'n' roll and, for just $599 and with the grand old Guild name on its elegant headstock, it's almost impossible to argue with.
Recent Posts
I drove down Botchergate the other day only to see that the old J P Dias music shop has now been com …

Fresh from Guild's vintage-inspired Newark St. Collection, could this retro hot-rod be the leader of …

ORANGE 1968 LONDON ENGLANDIn 1968, CEO Cliff Cooper, an electronics student and keen musician, borro …